About Us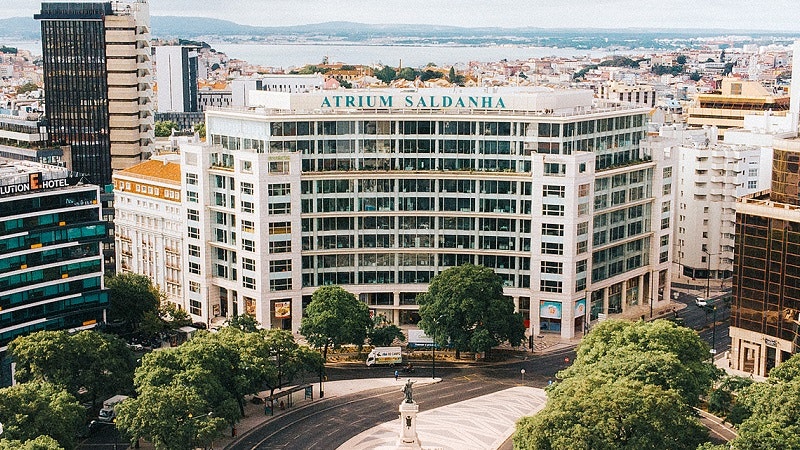 IN STEP WITH YOUR BUSINESS.
Strategic location in Lisbon's Central Business District (CBD).
Inaugurated on March 3 of 1998, the Atrium Saldanha combines in harmonious fashion the classic lines and new materials and technologies that characterise the distinctive work of Catalan architect Ricardo Bofill.
The Atrium Saldanha, thanks to it size, prime location and characteristics, has become a city landmark.
The building, which comprises one area with retail and another with offices, has 12 floors in its main body and six floors of parking. The shopping centre, spread across the first three floors, comprises 60 shops and has an inside panoramic lift. On the ground floor, which is at basement level on the Praça Duque de Saldanha side but with direct access from the street behind the building, Rua Fernão Lopes, is the food court, flooded with sunshine from the central atrium's huge skylight, with restaurants and cafés offering a large range of food and beverages. On the first and second floors are the rest of the centre's shops. On the second floor a new space, the Atrium Collection, was officially inaugurated in September of 2018 – open and light, and with spaces occupied by well-known brands, especially in fashion and accessories.
The offices, which were designed to the highest quality standards, can be found on the building's nine upper floors, with areas that range from 40m2 to 3,700m2. They are accessed through four main groups of lifts, with 18 lifts in all. The office entrances are accessed from Avenida Fontes Pereira de Melo and Avenida Casal Ribeiro.
Located on Praça Duque de Saldanha, the meeting point of Avenida Fontes Pereira de Melo and Avenida da República, this unique building has long been a symbol of the rebirth of the Portuguese capital. It has been awarded major prizes, including for 'Excellence in Integrated Architectural Conception and Interior Design' and 'Best Project of the Year – 1997', the Ambelis Prize of 1997, the Secil Prize for Civil Engineering of 1999 and the Valmor and Municipal Prize for Architecture. The building was also listed by Portugal's Order of Engineers as among its top '100 Works of Engineering of the 20th century'.
Local architect João Paciência also contributed to the project, and structural work was supervised by engineer José Teixeira Trigo.